The past two days, March 13 and 14, George and I wrapped up the mixing and editing for the album. On Monday, March 13, George and I spent the day with engineer Brian Schwab getting the basic mix together and editing four tracks. It was a special day working with George in the studio. He has a very particular sense of how he wants the album to sound. He spoke about his days with Groove Holmes and how Groove had to have a particular mix between the left hand (bass) of the organ and the bass drum for his albums. It was fascinating listening to George talk about all the organ greats he worked with and how they thought about sound as an integral part of what makes a groove. (The ethnomusicologist in me definitely made an appearance during this session.) The performances David Zuchowski recorded have a really high energy. Pete Benson played some fiery solos and really locks in with Bernard who keeps blowing us away with his groove, accompaniment, and solos.
Here, George is listening to Brian get the mix worked out. Notice Art Kane's "A Great Day in Harlem" on the wall behind him. The first person he recognized in the photo was a young Johnny Griffin in the back row, his closest high school friend.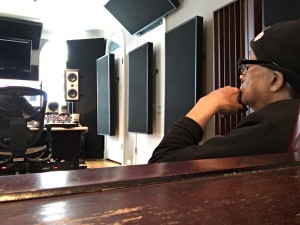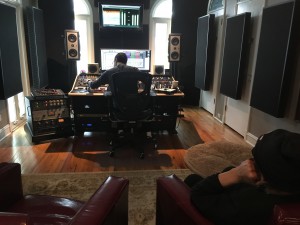 Here Brian Schwab takes care of the mix. George was fascinated by all the latest digital technologies. He's seen almost the entire development of studio recording technology having first recorded in the mid-1940s.
After the session, George came over for dinner and listened to Gabriela play some Beethoven piano pieces and Maple Leaf Rag for him.
On Tuesday, March 14th, I finished mixing the rest of the tracks with Brian. George and I now go on to listening a little closer to what we have and making track order. The mastering session will be scheduled soon.
George and Mike